http://<a class="twitter-timeline" href="https://twitter.com/Lutzreadtosoar?ref_src=twsrc%5Etfw">Tweets by Lutzreadtosoar</a> <script async src="https://platform.twitter.com/widgets.js" charset="utf-8″></script>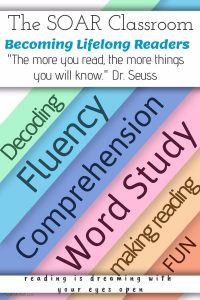 THE SOAR Literacy Classroom is a busy place.  
Our goal is to strengthen our reading and writing skills!  
Did you know that…
Being a reader means you're more likely to learn something new every day.
People who read are more likely to vote, exercise, and be more cultural.
Reading enhances your memory.
Reading helps to boost your analytical thinking.
Reading expands your vocabulary, so you'll sound like a genius.
Fiction books increase your ability to empathize with others.
People who read are more likely to get ahead when it comes to their careers, and life in general.
The link above is an example of a student who has learned the six syllable types, and can read fluently.  The student is on Step 9 (out of 12 steps in the program) and demonstrates his accuracy and fluency.  In the video, he is tracking and attending to the phrasing and punctuation of the text.